ISO 13485 Certification Consultant in India
Are you a medical device manufacturer in India looking to achieve ISO 13485 certification? MedDev Experts can help! We are a leading ISO 13485 certification consultant in India with a team of experienced regulatory consultants who can guide you through the certification process, ensuring compliance and success.
ISO 13485:2016 is a harmonized international standard for quality management systems (QMS) in the medical device industry. It helps manufacturers demonstrate their ability to consistently provide safe, effective, and high-quality medical devices and services that meet customer and regulatory requirements.
ISO 13485:2016 requirements for quality management systems (QMS) in the medical device industry include:
Documenting the QMS and required procedures.
Providing resources to implement and maintain the QMS.
Meeting applicable regulatory and customer requirements.
Planning and developing the processes needed for product realization.
Determining the requirements related to the product.
Planning and controlling the design and development of the product.
Controlling the production and service provision.
Developing acceptance criteria for service and installation activities.
Developing validation of processes for production and service provision
How to get ISO 13485 Certificate
Procure the ISO 13485:2016 standard. This will give you a good understanding of the requirements of the standard.
Identify and establish the necessary procedures and records. These are the procedures and records that will help you to demonstrate compliance with the standard.
Provide training to employees: This will help them to understand what is expected of them and how they can contribute to the success of the QMS.
Conduct internal audits: This will help you to identify any areas where you need to make improvements.
Conduct a management review meeting: To discuss the results of the internal audits and to identify any corrective or preventive actions that are needed.
Select a certification body and schedule an audit. The certification body will assess your organization's compliance with the standard and issue a certificate if you are found to be compliant.
Maintain your ISO 13485 certification by conducting regular internal audits and taking corrective or preventive action as needed.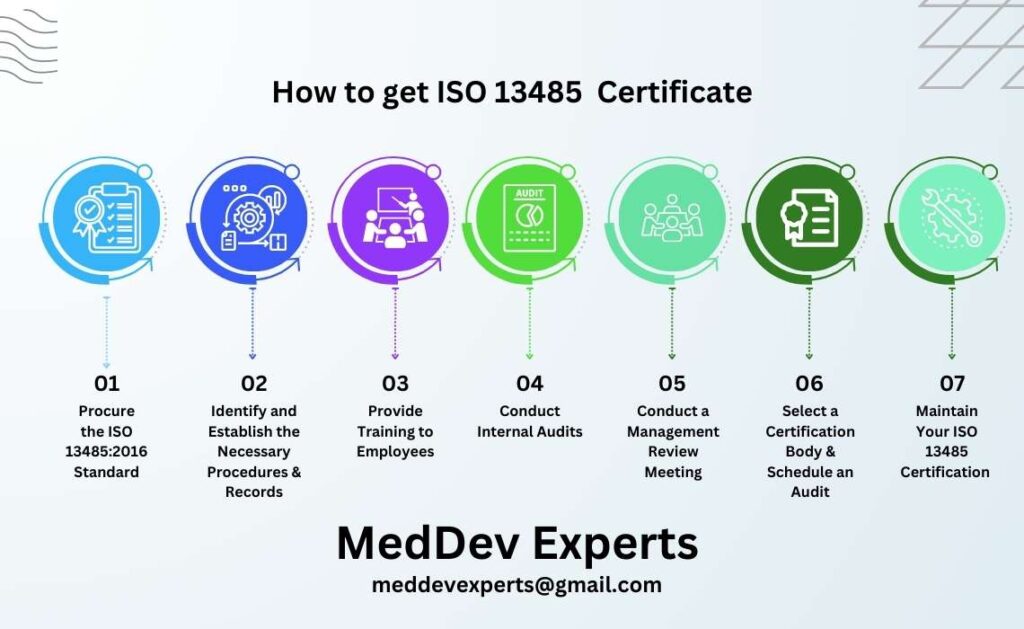 How MedDev Experts can help you achieve ISO 13485 Certificate
MedDev Experts is a leading ISO 13485 certification consultant in India. We have a team of experienced professionals who can help you every step of the way to achieve ISO 13485 Certification.
If you are interested in achieving ISO 13485 certificate, please contact MedDev Experts today. We would be happy to discuss your needs and how we can help you achieve your goals.