Welcome to MedDev Experts
Best BIS Certification Consultant in Baddi, India | BIS Mark
The Bureau of Indian Standards (BIS) is a statutory body responsible for establishing standards for products. The BIS Mark is a certification mark that is awarded to products that meet the quality and safety standards set by the BIS.
BIS Certification is compulsory for certain products in India, such as electrical appliances, food products, and medical devices. It is also recommended for other products, as it is a mark of quality and safety that is recognized by consumers.
BIS Certification Requirements:
Adhere to Indian Standard (IS) Specifications.
BIS licenses are granted to manufacturers, not distributors or retailers.
Submit separate applications for distinct factory locations.
Have an equipped laboratory and qualified personnel to test products according to IS specifications.
Establish production and testing facilities on the factory premises and meet IS norms
Advantages of ISI Mark Certification
ISI Mark Certification offers several benefits to businesses and consumers alike.
Advantages of ISI Mark Certification
Nationwide access to the Indian market
Legal compliance with BIS standards
Increased consumer trust and loyalty
Assurance of product quality
For consumers, ISI Mark Certification:
Protects from counterfeits and substandard goods
Ensures product safety, health, and reliability
Provides confidence in the quality of products
List of Products under Compulsory BSI Certification
Cement: Any variety of cement manufactured or sold in India)
Household Electrical goods: Electrical Wires, Cables, Appliances and Protection Devices and Accessories
Batteries
Food and Related products
Oil Pressure Stoves
Automobile Accessories (Pneumatic Tyres and Tubes)
Cylinder, Valves and Regulator
Medical Equipment
Steel and Iron Products
Chemicals, Fertilizers, Polymers & Textiles
Air Conditioner and its related Parts, Hermetic Compressor and Temperature Sensing Controls
Domestic Water Heaters for use with LPG
Domestic Gas Stoves for use with Liquefied Petroleum Gases
Transparent Float Glass
Rubber Hose for Liquefied Petroleum Gas (LPG)
Aluminium Foil
Non Electric Toys
Electric Toys
Flat Transparent Sheet Glass
Safety Glass
Woven Sacks
Butterfly Valves
Foot Wear
Helmet for riders of Two Wheeler Motor Vehicles
Refrigerating Appliances
Water Treatment System
Protective Textiles
Fire Extinguishers
Aluminium and Aluminium Alloys
Plywood and Wooden flush door shutters
 Domestic Pressure Cooker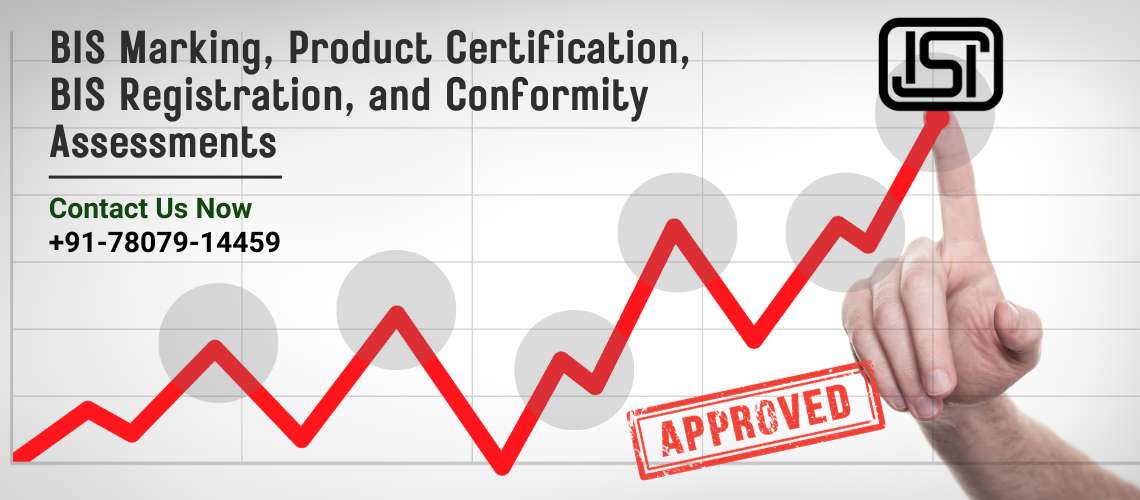 How to Get BIS Certification?
BIS Certification offers two procedures:
Normal Procedure: 60-65 days
Simplified Procedure: 35-40 days
Normal Procedure for BIS Certification
Application: Meet BIS certification requirements, including in-house labs and product compliance with Indian Standards. Gather the necessary documents.
Inspection: BIS officials inspect your product and your manufacturing prmises.
Testing: The samples are sent to BIS-approved labs for testing.
Approval: If the product meets all test criteria, BIS grants approval and issues the BIS certificate by the authority.
Simplified Procedure for BIS Certification
This procedure of BIS Certification is much faster than compared to the regular procedure.
First, the applicant submits the report of the samples already tested and approved by BIS as per Indian Standards.
Then, the applicant has to submit the BIS online registration application and BIS Certification Cost along with other required sets of documents.
During scrutiny of application documents, the BIS official will conduct an inspection process of products along with the factory/industry.
Once the inspection is completed, the sealed samples of the goods are further sent for testing at the BIS-approved laboratories.
Then, if verified and approved according to the commended standards, the certificate is granted by the BIS authority.
Essential Documents for BIS Mark Certification
Laboratory test reports in accordance with the product standard
Factory registration documents
Manufacturing process flow chart
In-house testing facilities information
Authorized signatory details and other relevant documents
If you are interested in getting BIS Marking, Product Certification, BIS Registration, and Conformity Assessments, please contact us today. We would be happy to help you through the process. Our dedicated team is here to answer your questions, provide guidance, and support you throughout the registration process.