Class C-D Medical Devices Under Licensing Regime from 01-10-2023
Introduction: Class C-D Medical Devices Under Licensing Regime
The Ministry of Health and Family Welfare issued Notification No. GSR 102 (E) on February 11, 2020, introduced a transition period for licensing medical devices. According to the notification, a period of thirty months was provided for low-risk Class A and low-moderate-risk Class B devices. A transition period of forty-two months was granted for moderate-high-risk Class C and high-risk Class D devices.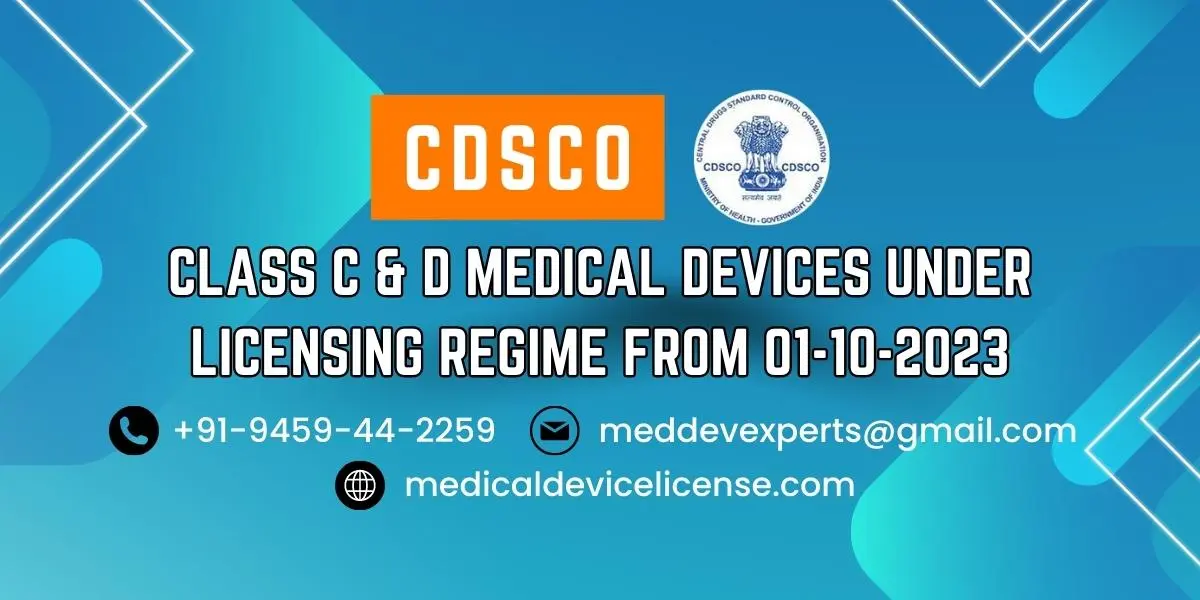 These timeframes were set from the date of the notification, allowing manufacturers of different classes of medical devices to comply with the new licensing requirements within the specified transition periods. The transition period of 42 months for Class C & D devices as specified in Notification No. GSR 102 (E) is set to be completed on September 30, 2023.
In accordance with this notification and to facilitate compliance, the Central Drugs Standards Control Organization (CDSCO) issued a circular on April 12, 2023, specifically addressing the Class C-D Medical Devices Under Licensing Regime. The circular serves to provide guidance and clarity to manufacturers and importers of these devices regarding the requirements and procedures for obtaining licenses under the new regime.
Starting from October 1, 2023, it will be mandatory for all manufacturers to obtain a medical device manufacturing license for Class C and Class D devices from the Central Drugs Standards Control Organization (CDSCO). By obtaining the appropriate manufacturing license from CDSCO, manufacturers can demonstrate their compliance with the regulations and contribute to the overall quality and integrity of the medical device industry.
Manufacturing License Inspection
According to the Medical Devices Rules (MDR) 2017, manufacturers seeking a manufacturing license for Class C and Class D Medical Devices must undergo an inspection within 60 days from the date of application. This inspection is conducted by the Medical Devices Officers (MDO) of the Central Licensing Authorities (CLA) to ensure compliance with the Fifth Schedule of MDR 2017.
Smooth Transition of Class C-D Medical Devices Under Licensing Regime
CDSCO suggests that manufacturers make proactive applications for the grant of manufacturing licenses through the official www.cdscomdonline.gov.in portal. By submitting all the necessary documents and fees as per MDR 2017, the application process can be expedited to avoid any disruption in the supply chain of these medical devices and ensure continued access for patients.
How does MedDev Experts assist in obtaining a Class C and Class D medical device license from CDSCO?
MedDev Experts is a trusted medical device consulting company in India that specializes in helping manufacturers navigate the regulatory landscape and obtain the necessary licenses for their Class C and Class D medical devices from CDSCO. Here's how MedDev Experts can assist you in the process to comply the notification for Class C-D Medical Devices Under Licensing Regime 
Regulatory Guidance: MedDev Experts has a team of experienced regulatory professionals who are well-versed in the requirements and procedures for obtaining medical device licenses. They provide comprehensive guidance and support throughout the entire licensing process, ensuring that you have a clear understanding of the regulatory framework and the steps involved.
Document Preparation: MedDev Experts assists in preparing the required documentation for your license application. They ensure that all the necessary technical documents, safety data, and compliance evidence are compiled accurately and in line with CDSCO's requirements. This helps to streamline the application process and increases the likelihood of a successful outcome.
Quality Management System (QMS) Compliance: CDSCO places significant emphasis on the implementation of a robust Quality Management System (QMS) for medical device manufacturers. MedDev Experts helps you establish and implement a compliant QMS, aligning it with international standards such as ISO 13485.
Application Submission and Follow-up: Once the documentation is prepared, MedDev Experts assists in submitting the license application on your behalf. We liaise with CDSCO and handle any queries or requests for additional information that may arise during the review process. Their expertise and experience in dealing with regulatory authorities help expedite the application and enhance the chances of a timely approval.
Ongoing Support:

MedDev Experts offers ongoing support even after the license is obtained. We assist in maintaining compliance with CDSCO's regulations, helping you navigate post-approval requirements such as adverse event reporting, post-market surveillance, and any changes or updates to the licensing requirements.
To comply with the notification of CDSCO for Class C-D Medical Devices Under Licensing Regime or for any other queries or to seek more information, please feel free to contact MedDev Experts. We are here to assist you with every step to comply with CDSCO Notification for Class C-D Medical Devices Under Licensing Regime. Our team of experts is ready to address your concerns, provide personalized guidance, and offer tailored solutions to meet your specific needs.
Whether you have questions regarding the Class C-D medical devices under licensing regime, license application process, regulatory compliance, or any other related matter, our dedicated team is ready to provide prompt and reliable support. We value your inquiries and look forward to assisting you in achieving your licensing goals.