EU MDR Medical Device Labeling Requirements
The EU MDR 2017/745, introduced by the European Parliament and the Council of the European Union in 2017, aims to enhance safety and quality standards for medical devices in the European Union. It replaces the older Medical Device Directives (EU MDD) and Active Implantable Medical Device Directives (AIMDD), bringing in more stringent requirements and greater manufacturer accountability. Medical device labeling plays a vital role under EU MDR, enabling precise communication of crucial information. Adhering to these labeling requirements is crucial for manufacturers to showcase regulatory compliance and prioritize patient safety.
Medical device labeling is crucial in the manufacturing process as it communicates vital information about the device's benefits, risks, and safe usage instructions. Ensuring compliance with labeling regulations is paramount for manufacturers to gain market access and uphold patient safety.
Non-compliance with accurate labeling standards or omission of essential information can lead to serious repercussions such as export bans, financial penalties, and reputational damage. Manufacturers are actively exploring strategies to meet the ever-evolving and stringent regulatory requirements. These strategies include rebranding, centralizing the labeling process, and implementing consistent corporate standards.
In this blog post, we will delve into the specific labeling requirements outlined in the EU Medical Device Regulation (MDR) 2017/745. We will also provide practical strategies to meet these requirements and achieve regulatory compliance.
By mastering proper labeling practices, manufacturers can enhance patient safety, strengthen their position in the competitive medical device market, and avoid the severe consequences of non-compliance.
Medical device labeling includes written, printed, or graphic information related to a medical device or its packaging. It encompasses symbols, warnings, User Interface (UI) details, and documentation. Symbols offer brief instructions and warnings, while warnings convey potential risks. The UI provides information about device operation, settings, and actions. Documentation comprises user manuals and instructions.
Difference between labeling and label?
Medical device labeling is a broader term that encompasses all the information associated with a medical device, including the physical label as well as additional information like instructions for use, warnings, symbols, and documentation. It covers any information conveyed by the manufacturer and provided for, associated with, or affixed to the device or its packaging.
On the other hand, a label specifically refers to the written, printed, or graphic information that is displayed on the medical device itself. It is the visual representation of the information that is directly affixed onto the device.
Essential Components of Medical Device Labeling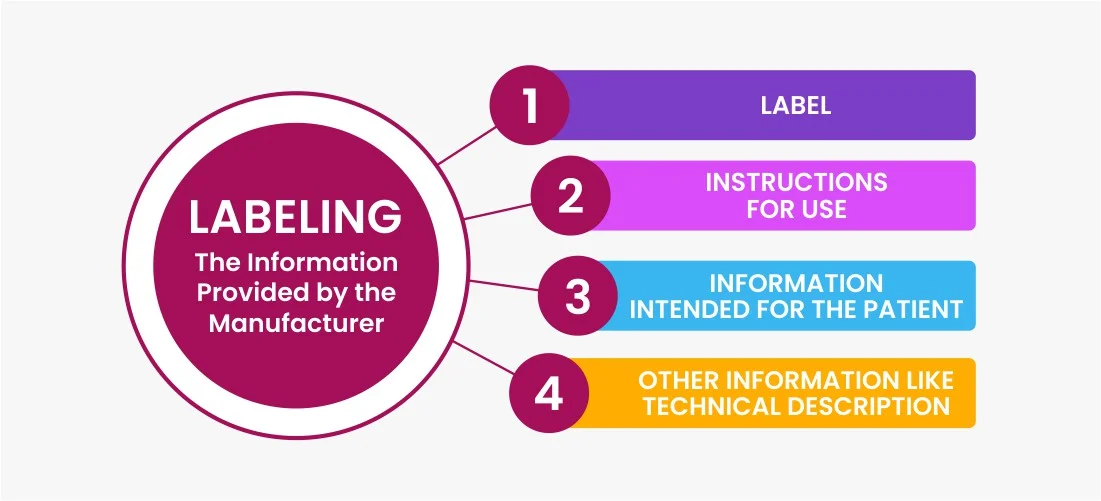 Why is Labeling Important?
Medical device labeling is vital for market access and ensuring the safe use of devices by healthcare professionals and patients. During the product authorization process, labeling undergoes rigorous scrutiny. Incorrect or inadequate labeling can result in product recalls, export bans, financial penalties, and harm to reputation. Omitting crucial information may cause delays in entering the market. Proper labeling provides critical details, enhances patient safety, and combats counterfeit devices. Adhering to labeling requirements builds trust, credibility, and market confidence.
Content of the Medical Device Label
The name or trade name of the device.
Details necessary for user identification, including the device's contents, packaging, and intended purpose (if not obvious).
Manufacturer's name, registered trade name or trade mark, and registered place of business address.
If the manufacturer is located outside the EU, the name and registered place of business address of the authorized representative.
Indication if the device contains medicinal substance, including a human blood or plasma derivative, or tissues or cells, or their derivatives, of human origin, or tissues or cells of animal origin, or their derivatives.
Lot number or serial number of the device.
UDI (Unique Device Identifier).
Expiration date of the device, expressed in years and months.
Date of manufacture if no expiration date is provided.
Indication of any special storage or handling conditions.
If the device is supplied sterile, an indication of its sterile state and the sterilization method.
Warnings or precautions to be brought to the attention of the user, with more detailed information in the instructions for use.
Indication if the device is intended for single use, with consistent labeling across the EU.
If the device is a single-use device that has been reprocessed, indication of reprocessing, number of cycles performed, and any limitations.
If the device is custom-made, labeling with the words "custom-made device."
Indication that the device is a medical device. If exclusively for clinical investigation, the words "exclusively for clinical investigation."
Qualitative composition and quantitative information on the main constituent(s) for devices composed of substances or combinations absorbed by or dispersed in the human body.
For active implantable devices, the serial number, and for other implantable devices, the serial number or lot number.
The sterile packaging of a device should include the following information:
An indication to recognize the packaging as sterile.
A declaration that the device is in a sterile condition.
The method of sterilization.
Instruction to check the instructions for use on what to do if the sterile packaging is damaged or unintentionally opened before use.
Labeling of non-sterile Product
Medical device labeling must differentiate between identical or similar devices available in both sterile and non-sterile conditions. The labeling should include a symbol indicating that the devices are non-sterile.
Labeling of devices used in combination with other devices or equipment
If a medical device is intended for use in combination with other devices or equipment, it is essential that the entire combination, including the connection system, is safe and does not compromise the specified performance of the devices. Any limitations or restrictions on the use of such combinations should be clearly indicated on the device label and/or in the instructions for use.
Labeling of devices that emit radiation
Operating instructions for devices that emit hazardous or potentially hazardous radiation must include comprehensive details about the radiation's nature, measures to protect the patient and user, and methods to prevent misuse and minimize installation risks as much as possible and appropriate. The instructions should also specify information regarding acceptance and performance testing, acceptance criteria, and maintenance procedures.
Labeling of Devices Containing Carcinogenic, Mutagenic or Toxic to Reproduction
Where devices, parts thereof, or materials contain substances of Carcinogenic, Mutagenic or Toxic to Reproduction concentration above 0.1 % weight by weight (w/w), the presence of those substances shall be labeled on the device itself and/or on the packaging for each unit or, where appropriate, on the sales packaging, with the list of such substances.
Specimen of a Medical Device Label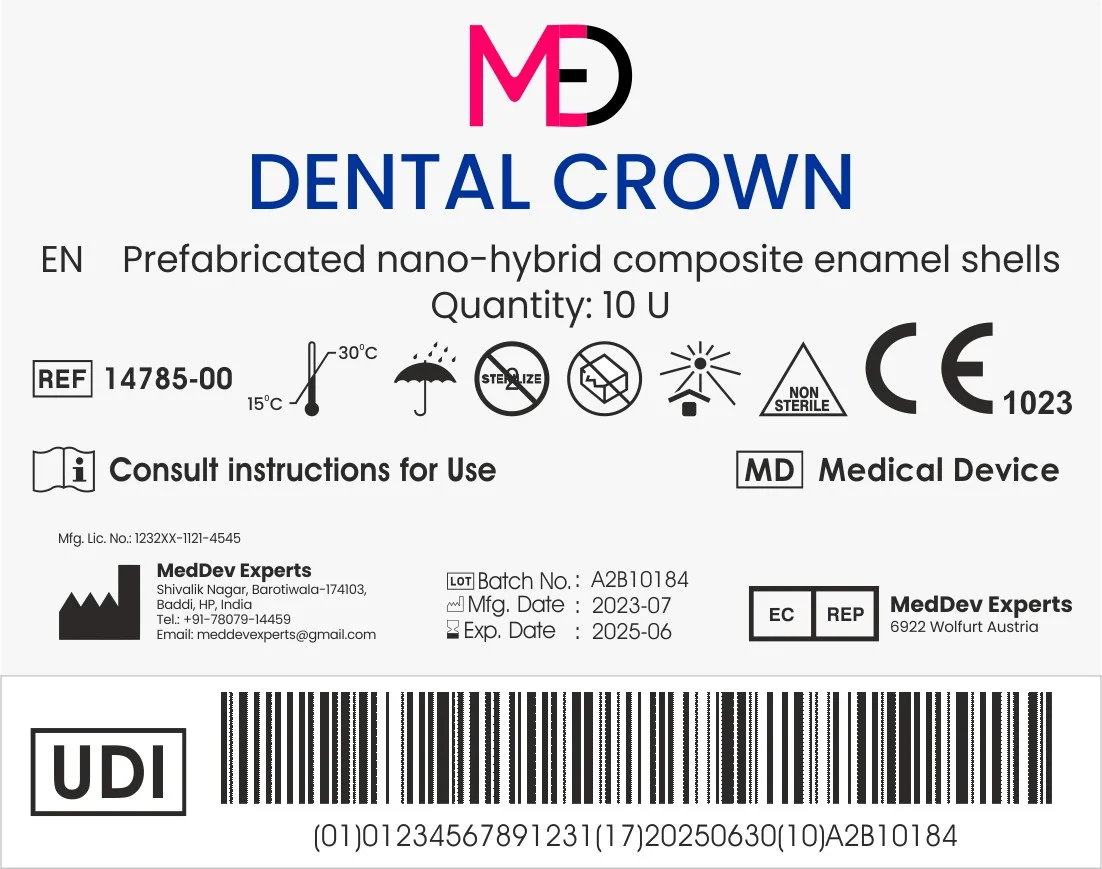 Medical Device Labeling Standard: ISO 15223-1:2021
ISO 15223-1 establishes requirements for symbols used in medical device labeling to convey information about the safe and effective use of the devices. The newer version ISO 15223-1:2021, incorporating additional symbols to comply with the requirements of EU MDR 2017/745.
According to the ISO 15223-1 standard, medical device labeling symbols are categorized into seven groups:
Manufacturing: Symbols related to the manufacturing process of the device.
Storage: Symbols indicating specific storage conditions for the device.
Safe use: Symbols providing information on the safe and proper use of the device.
Sterility: Symbols indicating the sterile condition of the device or instructions related to sterility.
IVD specific: Symbols specific to in vitro diagnostic devices.
Transfusion/Infusion: Symbols related to transfusion or infusion procedures.
Others: Symbols that do not fit into the above categories but are relevant to medical device labeling.
By utilizing these standardized symbols in medical device labeling, manufacturers can effectively communicate important information to users, ensuring safe usage and reducing the risk of errors or misunderstandings.
Medical device labeling symbols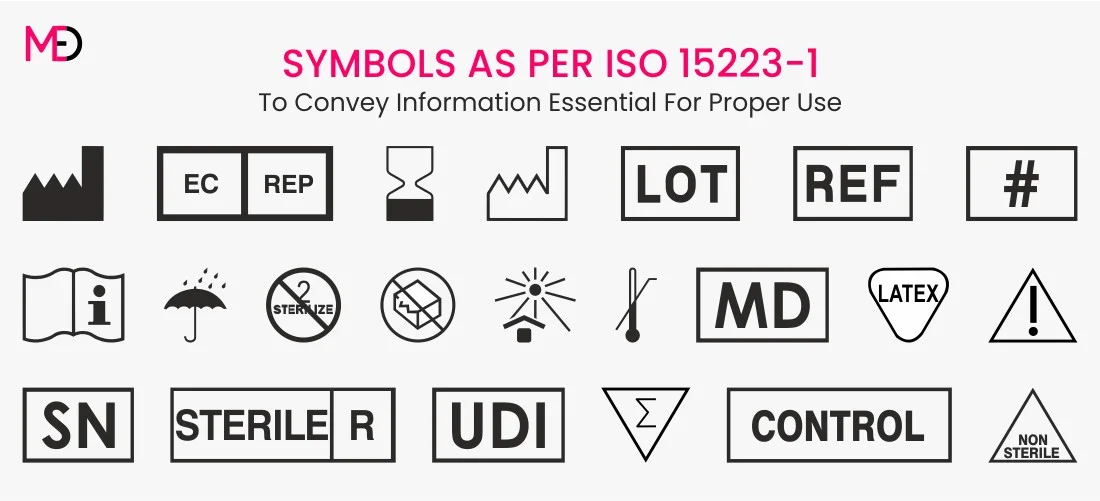 Key Changes in Medical Device Labeling Requirements under EU MDR
Name or trade name of the device
Manufacture date (or expiration date)
An indication that the equipment/product is a medical device
Any warnings or precautions that should be immediately communicated to the user
IFU or eIFU web address
Best Practices: DOs & DON'Ts
To ensure successful compliance with the new labeling requirements, here are some best practices for medical device and pharmaceutical companies:
Dos:
Incorporate labeling design early in the planning process.
Clearly identify the medical device with its make, model number, manufacturing date, and batch or serial number.
Include contact information for the manufacturer, authorized representative, or distributor.
Provide a list of contents included with the device.
Include relevant warnings or cautions based on the risk management process.
Utilize appropriate symbols on device labels, as applicable.
Select label materials that remain readable throughout the device's lifespan and are compatible with cleaning and sterilization methods mentioned in the Instructions for Use (IFU).
Seek review of labels by MedDev Experts before device submission.
Include content that contradicts the intended usage or describes off-label use.
Make unsubstantiated marketing claims without supporting data.
Use certifying body artwork on product labels without authorized consent.
Make changes to the device's labeling after regulatory approval has been obtained.
It is important to note that while these best practices provide general guidance, each jurisdiction may have specific requirements that should be followed accordingly. Manufacturers should stay updated on the specific regulations applicable to their target markets to ensure full compliance and smooth transition to the new labeling requirements.
Implementing the new EU MDR is challenging but crucial for manufacturers. Compliance with labeling requirements is essential to avoid product discontinuation and recalls. Streamlining labeling processes and employing established practices will ensure timely compliance.
Organizations should adopt a phased approach, leverage technology, and harmonize labels. By taking proactive measures, manufacturers can meet EU MDR requirements and deliver safe medical devices efficiently.
For professional guidance and assistance in developing your medical device labels and complying with the EU MDR labeling requirements, consider partnering with MedDev Experts, a leading medical device regulatory consulting company. Our team of experts can provide tailored consultancy services to support you throughout the compliance journey.
Don't delay – start preparing for EU MDR compliance today with the expertise of MedDev Experts. Contact [email protected] to learn more about the EU MDR Labeling Requirement and how we can help you navigate the complex landscape of medical device labeling under the EU MDR.