Must-Have CDSCO License to Manufacture Respiratory Products in India
Respiratory products are an integral part of the medical device landscape in India, governed by the Central Drugs Standard Control Organization (CDSCO) Medical Device Licensing Regime. Under this robust regulatory framework, respiratory devices such as ventilators, oxygen concentrators, and CPAP machines undergo rigorous evaluation to ensure their safety and efficacy.
This regulatory oversight underscores the commitment to quality and patient well-being, making CDSCO's medical device licensing regime a cornerstone for respiratory product manufacturers and healthcare providers alike.
List of "Class A" Respiratory Products
Bulk oxygen concentration system
Cardiopulmonary resuscitation mask
Cough long-term ambulatory recording system
Steam inhaler
Stress test treadmill
Tracheostoma protective filter
Tracheostoma protector
Tracheostomy tube lubricant
Valsalva manoeuvre mouthpiece
Video intubation laryngoscope handle/monitor
Public respirator (2 ply, 3 ply face mask)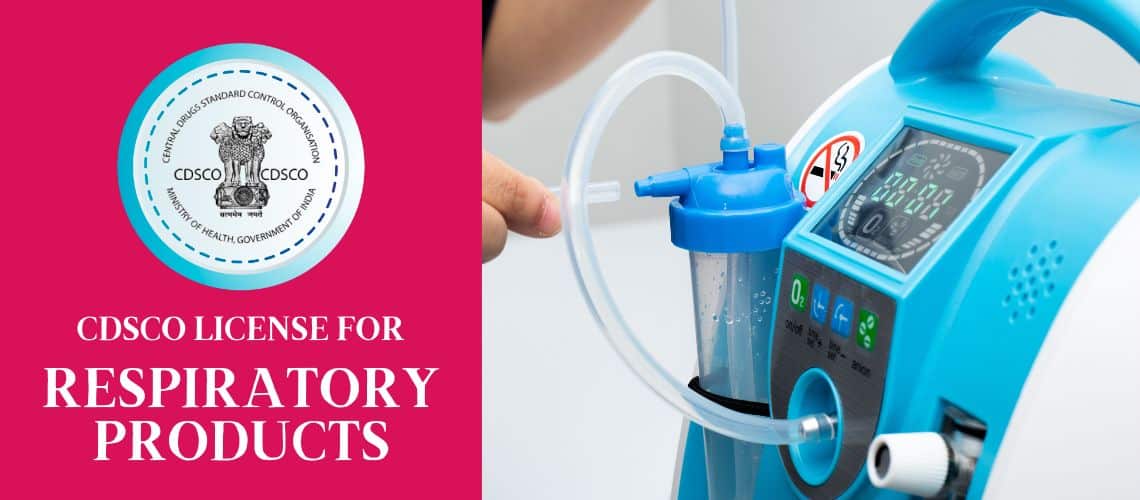 List of "Class B" Respiratory Products
Activated-oxygen generator
Argon gas analyser
Artificial airway tube cuff pressure monitor
Cerebral oximeter
Chest-oscillation airway secretion-clearing system
Chest-percussion airway secretion-clearing system
Cold-air diagnostic inhalation system
Cricothyrotome
Dry powder inhaler
Dry salt therapy device
Electroacoustical airway secretion-clearing system
Endotracheal tube introducer
Exhaled-gas oesophageal intubation detector
Foetal pulse oximeter
Gas pipeline/supply system air compressor
Heated respiratory humidifier
Home-use sleep apnoea recording system
Impedance pneumography recording/analysis system
Infant apnoea monitor
Manual chest percussor
Nitrogen monoxide analyser
Nitrous oxide analyser
Pulse oximetry telemetric monitoring system
Respiratory apnoea monitoring system
Thoracic bioconductance measurement system
Thoracic electrical impedance segmentography system
Thoracic suction pump
Tongue-adjustment sleep apnoea treatment system
Transcutaneous blood gas monitoring system
Whole-body plethysmograph
Diagnostic Spirometer
Monitoring Spirometer
Oxygen Concentrator
List of "Class C" Respiratory Products
Hyperbaric chamber
Implantable sleep apnoea treatment system
Therapeutic positive pressure breathing ventilator
Are You Looking for CDSCO License to Manufacture and Import Respiratory Products in India?
Contact MedDev Experts today! We have a team of experienced professionals who can help you navigate the complex regulatory process and get your license approved.
Respiratory Products Licensing Requirement:
To manufacture Class A and Class B Respiratory Products in India, you must obtain the MD 5 License from the State Licensing Authority.
To manufacture Class C Respiratory Products in India, you must obtain the MD 9 License from the Central Drugs Standard Control Organization (CDSCO).
To import Respiratory Products into India, you must obtain the MD 15 Import License from the CDSCO.
Requirements for Manufacturing, Importing, and Distributing Respiratory Products in India
License Fee for Respiratory Products in India
Class A or Class B: ₹ 5,000/- for manufacturing license, ₹ 500/- for each distinct device.
Class C or Class D: ₹ 50,000/- for manufacturing license, ₹ 1,000/- for each distinct device.
Validity of Respiratory Products License in India
Respiratory Products licenses are valid indefinitely, as long as the retention fee is paid every 5 years.
How to Apply Online for Respiratory Products Manufacturing or Import License in India
Step 1: Enroll your organization on CDSCO's SUGAM Portal.
Step 2: Fill in the respective applications and submit them through CDSCO's online SUGAM Portal.
Step 3: Upload the necessary documents and make the required payment.
Step 4: Your application will be scrutinized by the CDSCO Team. If it meets the requirements, it will proceed to a quality management system compliance audit.
Step 5: The Team will conduct an audit at your manufacturing premises. If any Non-Conformance (NC) is identified, you will be required to submit an NC closure report.
Step 6: Once all the conditions are met, CDSCO will grant the license.
Deadline for Obtaining Respiratory Products Licenses in India
The deadline for obtaining Respiratory Products licenses in India is October 1, 2022 for Class A and Class B devices, and September 30, 2023 for Class C and Class D devices.
List of Documents for Obtaining a Respiratory Products Manufacturing Licenses in India
Organization identity proof: This could be the Memorandum of Association, List of Directors or Partners, UDYAM Aadhar, or PAN card.
Sale Deed / Rent Deed of the Premises: This document proves that you have legal ownership of the premises where you will be manufacturing the medical devices.
Plant or Site Master File: This file contains information about the layout of your manufacturing facility, as well as the equipment and processes you will be using.
Building Layout with Dimension: This is a detailed drawing of your manufacturing facility, showing the dimensions of each room and the location of all equipment.
ISO 13485 Certificate and Previous Audit Reports: This certificate shows that your manufacturing facility meets international standards for quality management systems.
Competent Technical Staff for Manufacturing and Testing of Devices: You must have a team of qualified and experienced staff who can manufacture and test your medical devices.
Device Master File: This file contains detailed information about each medical device you will be manufacturing, including its design, manufacturing process, and testing procedures.
Test License, if any: If you need a license to test your medical devices, you must obtain it before you can start manufacturing them.
Compliance with the environmental requirements: You must comply with all applicable environmental regulations, such as those related to cleanrooms for manufacturing the devices.
Certificate of Analysis of 3 Consecutive Batches: This certificate shows that the first 3 batches of medical devices you manufactured meet the required quality standards.